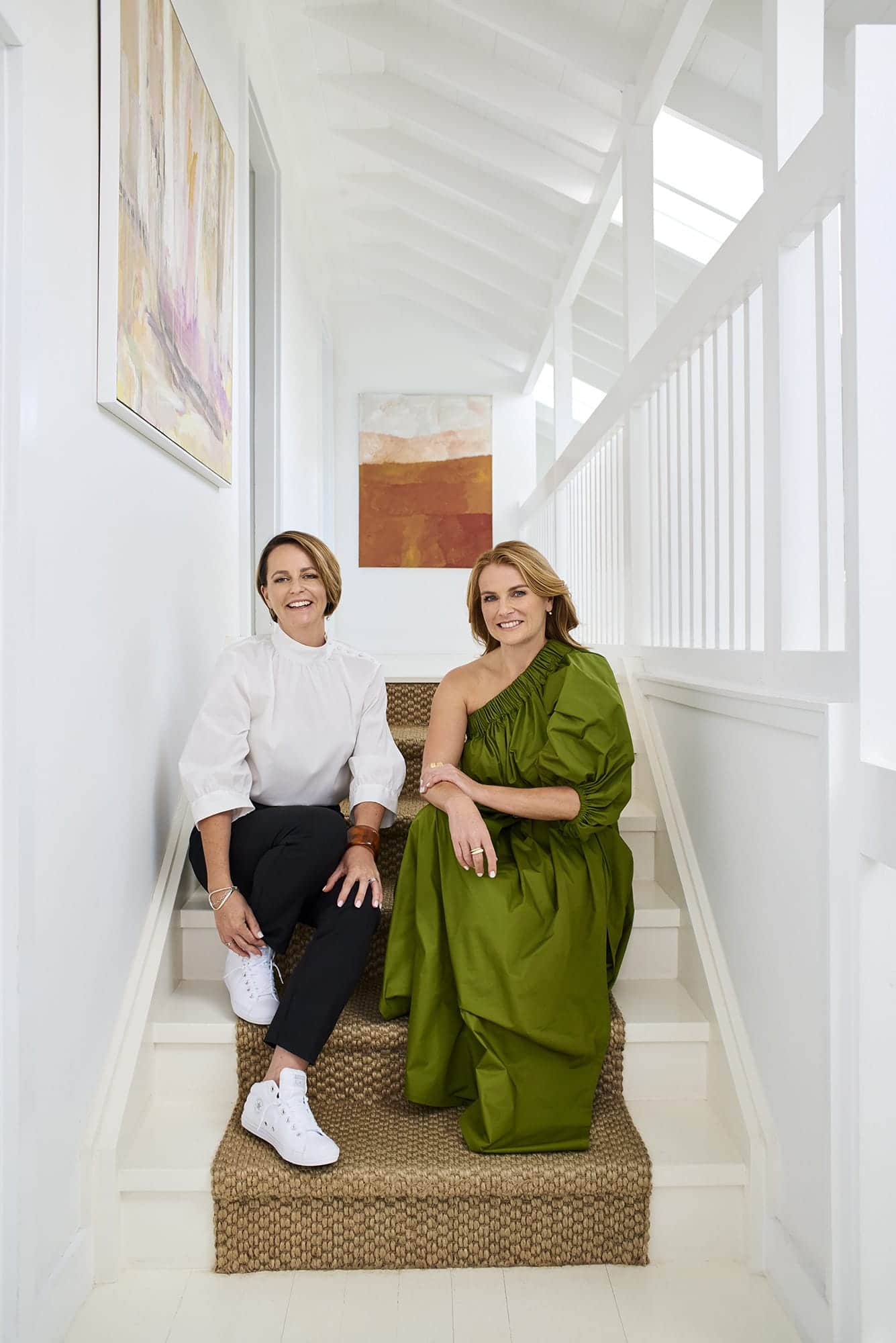 Hugh-Jones Mackintosh is a bespoke, residential design practice that is deliberately boutique in nature, allowing principals Justine Hugh-Jones and Katrina Mackintosh to be closely involved in all projects.
"For us it is important that we match a design vision with a high level of service. We feel these two things define our practice and it means that we have a number of repeat clients – which we love," says Justine.
Their approach to design is holistic. They understand the value of aesthetics; the perfectly designed armchair, the artwork that lifts the spirits and the medley of fabrics that look as though they always belonged together. This is married with a deep understanding of the power of good design; well-planned, functional and practical spaces are paramount to making sure a home works with ease.
"It's vital to us that each project feels like a home from the word go, with an in-built sense of history. We're passionate about what we do, and get an enormous amount of pleasure working with clients to draw out their vision and express their character with unique objects and furniture pieces – be they from an overseas vintage store or a local craftsperson," says Katrina.
Collaboration is an important word in the practice's vocabulary both with clients and with the specialists they work with, including architects, landscape designers, builders, upholsterers and joiners, whom they have built up strong relationships with over years of practice. There is, at heart, an appreciation that the entire experience of creating a home for someone is a privilege, and Justine and Katrina feel very fortunate to be able to do that daily.
Justine Hugh-Jones – Founding Principal
Justine set up her practice in 2004, specialising in high-end residential design. She has an innate ability to set a design vision around which her skills align, with a particular emphasis on aesthetics (a keen interest in art underpins much of her approach) and developing strong client relationships.
Her love of languages has seen her living in a number of countries, including France, where she gained a degree in international business, while her love of travel drew her to marketing at British Airways, where her exposure to product design led her, in turn, to interiors. Discovering her main passion was in design, she subsequently took up an apprenticeship with an interior designer in Hamburg before studying art history in Sydney and interior design in London.
Katrina Mackintosh – Principal
Katrina started working with Justine in 2011 and, while enjoying seeing a project through from start to finish, finds the initial concept design phase and architectural planning side particularly satisfying. In addition, she has a passion for tracking down the vintage lighting and furniture pieces that make a project sing. With a total of 20 years' experience, she graduated with honours in interior design from University of Technology Sydney, and subsequently worked for architectural and design practices specialising in high-end residential projects in both London and Sydney before joining Justine.
Interior design

Structural and architectural alterations

Design development and documentation including construction documentation

Collaboration with other design professionals such as architects and landscape designers

Design of specific rooms including kitchens and bathrooms

The design of custom joinery

Selection of materials and internal finishes

Furniture layouts

Sourcing and specification of all furniture, decorative lighting, window treatments + soft furnishings

Art curation and installation
2023 Belle Fanuli Interior Design Awards

Readers Choice for Rosetta

Winner

2023 House and Garden Top 50 Rooms

Top 50 Rooms, Best Use Of Colour - Rosetta

Winner

Top 50 Rooms, Best Bedroom - Rosetta

Winner

Top 50 Rooms, Soft Furnishings - Rosetta

Finalist

Top 50 Rooms, Indoor Outdoor Connection - Rosetta

Finalist

Top 50 Rooms, Best Bathroom - Rockpool

Finalist

2023 Australian Interior Design Awards

Residential Decoration - Playa House

Finalist

Residential Decoration - Bay Blue

Finalist

2023 Dulux Colour Awards

Residential Interior - Playa House

Finalist

2022 Belle Fanuli Interior Design Awards

Readers Choice for Playa House

Winner

2022 House and Garden Top 50 Rooms

Best Use of Colour for Weave House

Winner

2021 Belle Fanuli Interior Design Awards

Best work with colour for Garden House

Finalist

Best work with colour for The Weave House

Finalist

2021 TDF + Laminex Design Awards

Best Interior Design for The Weave House

Winner

2020 Belle Coco Republic Interior Design Awards

Best work with colour for Courtyard House

Finalist

2019 Belle Coco Republic Interior Design Awards

Best Residential Kitchen Design for Greenhouse

Finalist

Best Residential Bathroom Design for Axis House

Finalist

Best Residential Bathroom Design for Greenhouse

Finalist

2018 House and Garden Top 50 Rooms

Best Kitchen for Axis House

Finalist

Best Bathroom for Axis House

Finalist

Best Outdoor Indoor Connection for Courtyard House

Finalist

Best Cover for Courtyard House

Finalist

2018 House and Garden Top 50 Rooms for Bilgola Beach House

2018 Belle Coco Republic Interior Design Awards

Best Residential Interior for Killara House

Finalist

Best Bathroom Design for Bilgola Beach House

Finalist

Readers Choice Award Best Residential for Killara House

Finalist

2018 Australian Interior Design Awards

Best Residential Decoration for Taylors Bay House

Finalist

2015 Belle Coco Republic Interior Design Awards

Interior Designer of the Year

Finalist

Best Residential Interior for Foreshore House

Finalist

Best Residential Kitchen Design for Foreshore House

Finalist

Best Residential Bathroom Design for Foreshore House

Finalist

Best Kitchen Design for Foreshore House

Winner

2014 House and Garden Top 50 Rooms for Palm Beach House

2013 Belle Coco Republic Interior Design Awards

Best Residential Interior for Harbourside House

Finalist

Readers Choice Award Best Residential for Harbourside House

Winner